Multichannel Virtual Phone Number
Multichannel virtual phone number (also called multiple channel direct inward dialing number) allows you to receive several calls simultaneously and it is very important element in successful activity of modern company.
It is often used with companies which actively interact with clients, matches their prestige and provides the quality communication with your customers and partners. Another feature of multichannel did number is significant decrease of call rates. In addition, you don't need to buy additional equipment. Multichannel VoIP DID number provides call forwarding to landline and mobile phones with low rates.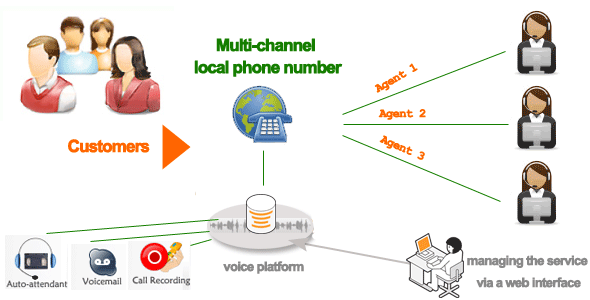 Multichannel Virtual Phone Number Advantages:
practically unlimited amount of channels
save phone number after your company changes address
you can hold incoming calls and forward to another worker if operators are busy so you will not lose any client
possibility to organize virtual branch of your company in 90 countries of the world
ability to unite telephony between offices which are located in different cities and countries
it's very convenient to use multichannel did number in advertisement purposes
Get virtual multichannel number and expand your business! Your clients will easily call you any time thus you will not lose clients when your company phone numbers are busy.
Multiple Channel Virtual Phone Numbers Are Available In:
rates
. Call forwarding to SIP devices is
free
for numbers from most countries.
How to Buy a Multichannel Virtual Phone Number?
You can choose one of the following ways to buy a multichannel virtual phone number:
- send the request to:
[email protected]
This e-mail address is being protected from spambots. You need JavaScript enabled to view it
Этот e-mail адрес защищен от спам-ботов, для его просмотра у Вас должен быть включен Javascript
If you have any questions, please contact Technical Support