USA Phone Number

Expand your business, attract more customers and make international calls cheaper by using
USA phone number
with call forwarding practically anywhere in the world. Continent Telecom provides USA phone numbers from all major cities. Your clients, partners, friends and family will dial your US phone number with low call rates in their location. You'll receive incoming calls from them in the USA or any another country, on your home, office, mobile phone, SIP or IP PBX.
Get USA phone number now
!
What is a Local USA Phone Number and How It Works?
Local USA number (also called DID – direct inward dialing number) is a phone number without directly associated phone line, it looks like a usual landline or mobile phone number. The incoming calls from local USA number are forwarded to another telephone number which subscriber chooses: cell or landline number, SIP, etc.
For example, you live in the USA and have a trip to Thailand. You buy a local US phone number and choose call forwarding to your mobile phone in
Your Account
at Continent Telecom. Your customers, partners, friends and family will call you this number with local US rates and think that you are situated in the USA but you'll receive calls in Thailand!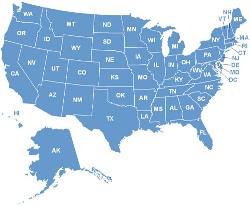 You can change call diverting way any time you need. Another example. Your company is situated in Mexico and you would like to sell your products or services in the USA. You buy
USA phone number
and forward calls to landline number in Mexico. Customers from the USA will think that your company is located geographically in their country. Thus, clients amount will increase. The number allows to create a local presence without spending money on physical office. Get USA phone number with call forwarding and expand your presence to American market!
Continent Telecom also offers multichannel local United States phone numbers. These numbers allow to receive several calls simultaneously and are very important element in successful activity of modern company.
Buy USA phone number online
!
USA Phone Numbers Are Available In:
| | | |
| --- | --- | --- |
| Alabama, AL | Louisiana, LA | North Dakota, ND |
| Arizona, AZ | Maine, ME | Ohio, OH |
| Arkansas, AR | Maryland, MD | Oklahoma, OK |
| California, CA | Massachusetts, MA | Oregon, OR |
| Colorado, CO | Michigan, MI | Pennsylvania, PA |
| Connecticut, CT | Minnesota, MN | Rhode Island, RI |
| Delaware, DE | Mississippi, MS | South Carolina, SC |
| Florida, FL | Missouri, MO | South Dakota, SD |
| Georgia, GA | Nebraska, NE | Tennessee, TN |
| Idaho, ID | Nevada, NV | Texas, TX |
| Illinois, IL | New Hampshire, NH | Utah, UT |
| Indiana, IN | New Jersey, NJ | Virginia, VA |
| Iowa, IA | New Mexico, NM | Washington, WA |
| Kansas, KS | New York, NY | Wisconsin, WI |
| Kentucky, KY | North Carolina, NC | Wyoming, WY |
Local US Phone Number Pricing
Local US phone number price consists of:
set up fee (one time)
monthly fee
call forwarding fee (view prices if you forward calls to mobile or landline number), forwarding to SIP is free.
For example, you buy US phone number. Set up fee is 15$ (one time), monthly fee is 10$ and call forwarding price to Canada landline number is 0,1$ per minute. If you forward calls to SIP it's free for you.
How to Get USA Phone Number?
Choose one of the following ways to get USA phone number:
Send the request to: sales@continent-telecom.com
On the site using My Account
If you have any questions, please contact Technical Support
Frequently Asked Questions
Which Payment Methods Do You Accept?
We accept credit cards (Visa, Mastercard, UnionPay), PayPal, wire transfer, Webmoney, Perfect Money, bitcoins, Qiwi, Yandex Money, LiqPay, etc.
How Fast Will US Phone Number Be Activated?
Local US phone number will be activated almost immediately after payment
How to Make Calls from USA Phone Number?
SIP account for outgoing calls is required. Please, write our managers to set it up: info@continent-telecom.com
How to Set Up Call Forwarding to SIP?
Please, choose call forwarding to phone in Your Account and specify «SIP/number@username» in the number field where «number» is your local USA number in international format without "+". If you'd like to get our company as a provider, please look for your «username» in «Advanced settings» menu, SIP/IAX info page. If you use another SIP-provider, please specify the SIP_ID you've got from the provider as your «username». Then fill the «Call forwarding directions» with «SIP/SIP_ID@provider.com». For example, «SIP/0000@provider.com»
end faq